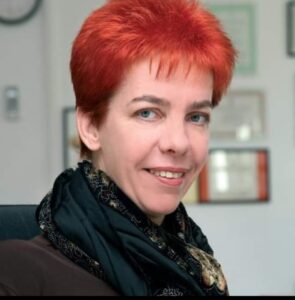 Vyara Gancheva, PhD
Vyara Gancheva, Ph.D.  is Assistant Prof., in the "Public Policies and Social Changes" department of the Institute of Philosophy and Sociology, BAS.
She is an honorary lecturer in "Communications and Sustainable Development" at the Faculty of Journalism and Mass Communication of the Sofia University "St. Kliment Ohridski".
She is a member of the Bulgarian Sociological Association.
She worked as a national consultant of the United Nations Development Program (UNDP) in Bulgaria under the "Capacity 21" project (1997-1998) and as a manager of more than 18 projects related to communications and sustainable development.
Author of the books "Media and civil society in Bulgaria" (2008) and "Modern approaches to the revitalization of inter-block spaces" (2019, co-authored with arch. Stefan Asparuhov), of three studies, of over 200 publications in the popular press and of 52 in specialized scientific publications, incl. with a high impact factor.
Dr. V. Gancheva is the chairperson of the Foundation "Forum for Sustainable Development FOCUS".
ganchevav@yahoo.com
Pieter Remmers
Pieter Remmers is a veteran in the area of responsible gambling, consultancy and training of gambling industry professionals. He has been involved in projects within the gambling industry since 1989. Pieter started his career as the director of an outpatient clinic for addiction problems – Jellinek in the early 80's.
His company, Assissa Consultancy Europe, works on responsible gaming policies and programs in a number of countries, i.e., the USA, Chile, the Netherlands, South Africa, Germany, Switzerland, Luxemburg, Belgium, Italy, Spain, Malaysia, Singapore, Canada, Malta, France, Sweden, and others.
He is a very experienced trainer; over years of training, he registered as a MI (Motivational Interviewing) trainer. Besides, Pieter is a consultant for the gambling and betting industry, land-based and online, casinos, slot machine halls, lotteries, and regulators or other governmental bodies all over the world. He has worked with companies like IGT/Lottomatica, Holland Casino, Kindred/ Unibet, Sun International, Svenska Spel, Gauselmann/Merkur, Betsson,De Nationale Loterij, Casino 2000, SNAItech, Novomatic, JOA and  a number of industry branche organizations like AWI (Germany), VAN (The Netherlands), ANESAR (Spain) European Casino Association (Belgium), European Lotteries (Belgium). He has also worked for governments and regulators in a number of countries, for example, Singapore, the Netherlands, Sweden, and South Africa. He is a member of the Executive Committee and serves as Secretary General of the European Association for the Study of Gambling (EASG). In this capacity, he is also the organizer of the EASG conference that is held every two years in a different place in Europe – the initiative is a meeting point for regulators, industry, researchers, academics and representatives from treatment organizations.
In 2003, he was the initiator of G4 (the Global Gambling Guidance Group). G4 deals with an international accreditation system for responsible gambling for the gambling, betting, and lottery industries, both land-based and online. Since 2004, Pieter has been the Chair of the Board of G4.
Since 2009, he has been a member of the Responsible Gaming Committee of IMGL (International Masters of Gaming Law), and since 2019, he has been a member of the Responsible Gambling Committee of AGEM (Association of Gaming Equipment Manufacturers). Besides, he is a member of the Responsible Gambling Committees of a number of international companies.
Pieter Remmers
Assissa Consultancy Europe
Mobile: + 31 653284321
pieter@assissa.nl
websites : www.assissa.nl; www.gx4.com; www.easg.org